NCNA History & Bylaws:
---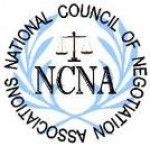 Brief history of National Council of Negotiation Associations (NCNA);
(Originally referred to as National Council of Crisis Negotiation Associations, NCCNA)
The concept of the NCNA has always been one of the goals of Unit Chief Gary Noesner, FBI (now retired). Gary Noesner is consider to be the driving force behind where crisis negotiations are in our law enforcement world today. As noted by Gary, "Negotiations are the most noble of police endeavors."
For many years Gary talked frequently talked about forming a national body to govern, for lack of a better word, what we do in crisis negotiations. The first step to formalize these thoughts came at the National Crisis Negotiation Symposium, FBIAcademy, Quantico, Virginia in July of 1999. At this 25th anniversary of the FBI's involvement in hostage negotiations a steering committee was formed to help the NCNA become a reality. Affectionately referred to as the 'magnificent seven', Gary and his staff picked seven members from the law enforcement negotiations community to participate and give some direction. Each member was known through local associations for their leadership in negotiations and their obvious willingness to 'be involved'. Geographically the seven represented the continental United States fairly evenly. The seven members were;
Lt. Bill Browne
Garland Police Depart. (Garland, TX)
Capt. Dennis Caine
Suffolk County Police Dept. (Yaphank, NY)
Lt. Stuart Erlenbush
Illinois State Police (Springfield, IL)
Asst. Sheriff Timothy James
Lexington Co. Sheriff's Dept. (Lexington, SC)
Lt. Robert Lozito
Sacramento Co. Sheriff's Dept. (Sacramento, CA)
Lt. Tom Monahan
Las Vegas Metro Police Depart. (Las Vegas, NV)
Officer Bruce Wind
Seattle Police Department (Seattle, WA)
At the 1999 Symposium each member of the original seven facilitated a group discussion where numerous topics were addressed that effected crisis negotiations. At the end of the group discussions each group leader reported to the full symposium. After returning home each group leader was asked to submit a written report to the FBI's Crisis Negotiation Unit regarding 'national issues' and crisis negotiations.
The next meeting of the 'magnificent seven' was in September of 2000 at the International Negotiation Conference, FBI Academy (Quantico, VA).
While meeting apart from the international delegates, the seven representatives adopted a mission statement so that the NCNA could move forward.
To read this mission statement and learm more about the NCNA, visit: http://www.ncna.us or click on the file below to download the NCNA By-Laws.